FUTURE VISION AMSTERDAM GLAMOUR SPECIAL
Live from her bubble bath, Fay brings us a glittering special edition of FVA exploring the nature of glamour. In an FVA exclusive, Dorothy interviews celebrity photographer Gary Lee Boas about the may glamorous people he has met during his illustrious career. What could be more glamorous than an Amsterdam squat? The Doppelgangers play live. Then loosen the bra-straps of your mind for 'There's No Time For Talking' with Future Vision Superstar Daniel Rakish.
Future Vision Amsterdam
Chibby Channel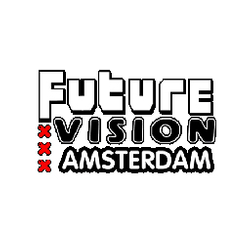 Algemene informatie
International Film & Cartoons... Straight to your Brain. Enter the subversive world of Future Vision Amsterdam. Fay Heady leads you through a mix of animation, surreal interludes and chats to artists and film-makers, all whilst she floats through the air on her magic carpet.