Beyond Psychology #4 q3+the gold fut #1q1
De wortels van de meeste mensen zijn zwak en zonder sterke wortels kan de mens niet opbloeien. Elk kind moet gehoorzaam zijn, daarmee houd je hem klein. Je geeft hem geen kans om ja of nee tegen jou te zeggen en om zelfstandig een beslissing te maken. Daarmee onthoud je het kind eigen verantwoordelijkheid te nemen.
OSHO TV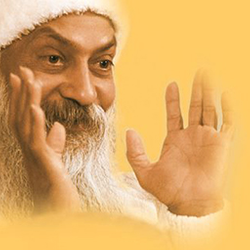 Algemene informatie
NL: Kijken naar OSHO TV kan je naar ontspanning brengen en daarmee in meditatie. Het is ook een prikkelend programma vanwege de manier waarop Osho (voorheen "Bhagwan Shree Rajneesh") onderwerpen als vrijheid, liefde, seksualiteit e.d. uitlegt. ENG: Watching OSHO TV can bring you to relaxation and with that in meditation. It is also a stimulating program because of the way in which Osho (formerly "Bhagwan Shree Rajneesh") explains subjects such as freedom, love and sexuality.