Om Shantih Shantih Shantih #26
Het bestaan gelooft niet in haast. Het bestaan gelooft in een hele langzame, rustige ontwikkeling. Al gauw word je één met je meditatie, met je stilte. Al gauw krijg je 't zalige gevoel, als deel van je ademhaling. Je bent nog steeds aan het groeien, je bent nog steeds op pelgrimstocht. Het is een reis die nooit eindigt, maar het gaat zo langzaam. Het bestaan kent geen haast, want het heeft geen gebrek aan tijd. Eeuwigheid is zijn tijd – het heeft geen begin en geen eind. Bijvoorbeeld, in het Oosten zijn de mensen niet erg haastig. In het Westen is haast hun god. En de reden is dat alle godsdiensten die buiten India zijn ontstaan – het judaïsme, het christendom en de islam maar in één leven geloven. Ze geven je zo'n zeventig jaar. Eén derde ervan slaap je, één derde werk je voor je bestaan, en het resterende één derde kijk je naar de TV...
OSHO TV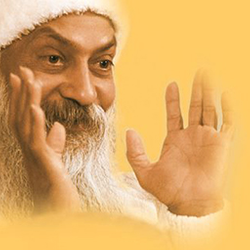 Algemene informatie
NL: Kijken naar OSHO TV kan je naar ontspanning brengen en daarmee in meditatie. Het is ook een prikkelend programma vanwege de manier waarop Osho (voorheen "Bhagwan Shree Rajneesh") onderwerpen als vrijheid, liefde, seksualiteit e.d. uitlegt. ENG: Watching OSHO TV can bring you to relaxation and with that in meditation. It is also a stimulating program because of the way in which Osho (formerly "Bhagwan Shree Rajneesh") explains subjects such as freedom, love and sexuality.