Om Shantih Shantih Shantih #27
Het idee om een academie te hebben is om wetenschap voor de opzettelijk te laten worden en niet toevallig. Tot nu toe is wetenschap toevallig geweest. Mensen zijn op sommige ontdekkingen, uitvindingen gestuit. Elke ontdekking werd gedaan niet doordat ze er naar zochten, maar gewoon door het rond- tasten in het duister zonder een gevoel voor richting. En politici overal ter wereld wilden steeds meer destructieve macht in hun handen krijgen en kwam onmiddellijk het idee om de wetenschappers te onderwerpen. Nu is elke wetenschapper een slaaf van een natie, van een regering en hij functioneert slechts voor doelen die tegen het leven, destructief zijn. Des te destructiever de dingen die hij kan vinden, des te meer wordt hij door de regeringen geprezen. Mijn idee van een academie is waar wetenschap creatief is, die bewust alles zal vermijden wat leven vernietigt en naar alles zal zoeken en onderzoeken wat leven bevordert.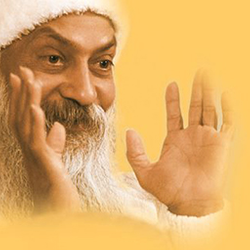 NL: Kijken naar OSHO TV kan je naar ontspanning brengen en daarmee in meditatie. Het is ook een prikkelend programma vanwege de manier waarop Osho (voorheen "Bhagwan Shree Rajneesh") onderwerpen als vrijheid, liefde, seksualiteit e.d. uitlegt. ENG: Watching OSHO TV can bring you to relaxation and with that in meditation. It is also a stimulating program because of the way in which Osho (formerly "Bhagwan Shree Rajneesh") explains subjects such as freedom, love and sexuality.
Contact:
Binnenkort te zien op ...
dinsdag 26 september
21:00 op SALTO2
zondag 1 oktober
22:00 op SALTO2
dinsdag 3 oktober
21:00 op SALTO2