The Razors Edge #26 vraag1
Vele jaren hebben over de hele wereld vrouwen geleefd en zijn gestorven zonder orgastische vreugde te ervaren. Het was 'n bescherming voor het ego van de man. De vrouw heeft graag een lang voorspel zodat haar hele lichaam begint te tintelen van sensualiteit, maar dan ontstaat de bedreiging voor 't ego van de man – wat te doen met haar capaciteit voor veelvoudige orgasme...
OSHO TV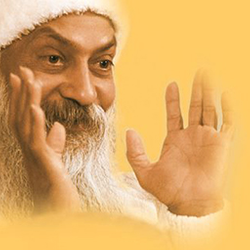 Algemene informatie
NL: Kijken naar OSHO TV kan je naar ontspanning brengen en daarmee in meditatie. Het is ook een prikkelend programma vanwege de manier waarop Osho (voorheen "Bhagwan Shree Rajneesh") onderwerpen als vrijheid, liefde, seksualiteit e.d. uitlegt. ENG: Watching OSHO TV can bring you to relaxation and with that in meditation. It is also a stimulating program because of the way in which Osho (formerly "Bhagwan Shree Rajneesh") explains subjects such as freedom, love and sexuality.