The Rebellious Spirit #1q2+WRB '89
Ik heb het zaad gestrooid. Het is slechts een kwestie van wanneer de lente gaat komen en ze komt altijd. Blijf gewoon open. Ik zal hier zijn om je te helpen. Als ik niet in het lichaam ben, kan ik je toch helpen. In feite kan ik van meer hulp zijn, wanneer ik van het lichaam bevrijd ben. Dan zal mijn bewustzijn over het geheel uitgespreid zijn.
OSHO TV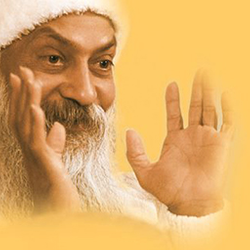 Algemene informatie
NL: Kijken naar OSHO TV kan je naar ontspanning brengen en daarmee in meditatie. Het is ook een prikkelend programma vanwege de manier waarop Osho (voorheen "Bhagwan Shree Rajneesh") onderwerpen als vrijheid, liefde, seksualiteit e.d. uitlegt. ENG: Watching OSHO TV can bring you to relaxation and with that in meditation. It is also a stimulating program because of the way in which Osho (formerly "Bhagwan Shree Rajneesh") explains subjects such as freedom, love and sexuality.