the Rebellious spirit #12 vraag 2+3
Op 'n dag bevond Avirbhava zich aan 'n hele steile rand. Ze werd zo bang nu het moment was gekomen, dat ze haar hoofd tussen haar benen stopte en haar handen onder haar benen, enkel om mij te negeren. Soms begon ze te huilen, maar ik trek me er niets van aan. Ik blijf mijn dingen doen! Om mij te ontwijken, zit ze soms aan de ene kant. Wanneer ze moed verzamelt, zit ze aan de andere kant...
OSHO TV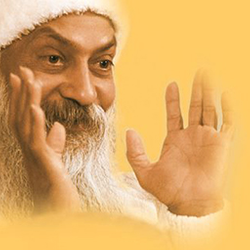 Algemene informatie
NL: Kijken naar OSHO TV kan je naar ontspanning brengen en daarmee in meditatie. Het is ook een prikkelend programma vanwege de manier waarop Osho (voorheen "Bhagwan Shree Rajneesh") onderwerpen als vrijheid, liefde, seksualiteit e.d. uitlegt. ENG: Watching OSHO TV can bring you to relaxation and with that in meditation. It is also a stimulating program because of the way in which Osho (formerly "Bhagwan Shree Rajneesh") explains subjects such as freedom, love and sexuality.