Beyond Psychology #7 q3+4+darshan
Ik moet denken aan Abraham Lincolm… Ik houd van deze anekdote! Het was zijn eerste toespraak in de senaat als president. Hij was zoon van 'n schoenmaker. De rijken waren geërgerd, geïrriteerd. Boos dat 'n schoenmakers zoon de president was geworden. Er was spanning op de eerste dag toen hij hen toesprak. Toen hij opstond, stond ook 'n aristocraat op en zei, "Mijnheer President, voordat u gaat spreken, wil ik u eraan herinneren dat uw vader schoenen voor mijn familie maakte. Ook nu heb ik schoenen aan die door uw vader zijn gemaakt. Vergeet dat niet. President worden alleen betekent niets. Vergeet niet dat u zoon van een schoenmaker bent." Er was een stilte waarin je een naald kon horen vallen. In de plaats van zich verlegen te voelen, bracht Abraham Lincolm de hele senaat in verlegenheid. Hij zei, "Het is goed, ik ben dankbaar dat u me herinnerd aan mijn vader. Hoe kan ik hem vergeten? Ik weet dat hij 'n perfecte schoenmaker was en ik kan nooit zo'n perfecte president zijn. Ik kan de oude man niet verslaan..."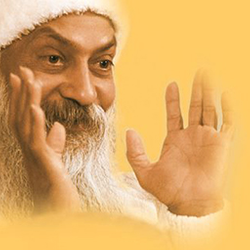 NL: Kijken naar OSHO TV kan je naar ontspanning brengen en daarmee in meditatie. Het is ook een prikkelend programma vanwege de manier waarop Osho (voorheen "Bhagwan Shree Rajneesh") onderwerpen als vrijheid, liefde, seksualiteit e.d. uitlegt. ENG: Watching OSHO TV can bring you to relaxation and with that in meditation. It is also a stimulating program because of the way in which Osho (formerly "Bhagwan Shree Rajneesh") explains subjects such as freedom, love and sexuality.
Contact:
Binnenkort te zien op ...
zondag 1 oktober
22:00 op SALTO2
dinsdag 3 oktober
21:00 op SALTO2
zondag 8 oktober
22:00 op SALTO2