Om Mani Padme Hum #22
Het is de ervaring van alle grote musici, dansers, schilders, beeldhouwers, dat als ze intens in hun creativiteit opgaan, zijzelf er niet meer zijn. De creativiteit zelf geeft hen een ervaring van het verdwijnen in het universele. Dat is vaak hun eerste kennismaking met meditatie. Of muziek heeft mensen tot het punt van meditatie gebracht, of meditatie heeft getracht een middel te vinden om wat niet uit te drukken valt te tonen. Maar in elk geval is muziek de hoogste creatie waar de mens toe in staat is. Meditatie vindt plaats. Muziek is jouw creativiteit. Maar we hebben het contact met de authentieke muziek verloren. En langzaamaan, sinds de mens steeds minder geïnteresseerd is geraakt in de innerlijke wereld, is haar muziek steeds lager van kwaliteit geworden.
OSHO TV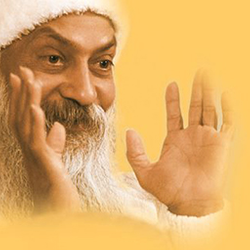 Algemene informatie
NL: Kijken naar OSHO TV kan je naar ontspanning brengen en daarmee in meditatie. Het is ook een prikkelend programma vanwege de manier waarop Osho (voorheen "Bhagwan Shree Rajneesh") onderwerpen als vrijheid, liefde, seksualiteit e.d. uitlegt. ENG: Watching OSHO TV can bring you to relaxation and with that in meditation. It is also a stimulating program because of the way in which Osho (formerly "Bhagwan Shree Rajneesh") explains subjects such as freedom, love and sexuality.