The Rebellious Spirit #16 vraag 4+5
Vraag: Spreek alstublieft over de koelte van liefde. Antwoord: "Je bent gewend geraakt aan hot dogs! Passie is heet, maar passie is geen liefde. Passie is 'n poging om de ander voor je eigen biologische en seksuele noden te gebruiken. En de mens die van passie afstand heeft gedaan wordt koud. Liefde zit precies tussen deze twee extremen, hot dogs en koude heiligen. Het zijn de twee extremen. Precies tussen die twee is de koelte van liefde. Liefde is niet koud en liefde is niet heet. Het is 'n koele bries, een frisse bries, een bries van de vroege morgenstond. Als het je overkomt, voel je je bijna jong opnieuw, fris opnieuw, alsof je plotseling 'n douche genomen hebt. Passie gebruikt de ander. Vandaar dat passie 'n continue gevecht is, want zogenaamde gepassioneerde geliefden proberen beiden de ander te gebruiken. Liefde gebruikt de ander niet. Het geeft 't eigen hart aan de ander. Het is niet 'n verlangen om iets te krijgen, maar 'n verlangen om iets te delen. Je bent vol vrede en stilte en vreugde en wil dit graag delen met hen die je dierbaar zijn.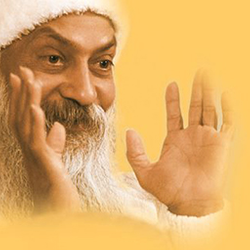 NL: Kijken naar OSHO TV kan je naar ontspanning brengen en daarmee in meditatie. Het is ook een prikkelend programma vanwege de manier waarop Osho (voorheen "Bhagwan Shree Rajneesh") onderwerpen als vrijheid, liefde, seksualiteit e.d. uitlegt. ENG: Watching OSHO TV can bring you to relaxation and with that in meditation. It is also a stimulating program because of the way in which Osho (formerly "Bhagwan Shree Rajneesh") explains subjects such as freedom, love and sexuality.
Contact:
Binnenkort te zien op ...
dinsdag 12 december
21:00 op SALTO2
zondag 17 december
22:00 op SALTO2
dinsdag 19 december
21:00 op SALTO2