Volta Live, deel 66, met de Jazz Fusion band Peebz.
When Amsterdam-based artist PEEBZ sat down and started composing his new compositions during the summer of 2021, he realised that he wanted to craft something that spoke to the disillusionment of the world felt by himself and his fellow Gen Z-ers. Inspired by Herbie Hancock, Kendrick Scott, Pat Metheny, Flying Lotus and Weather Report, the young composer/bassist blends genres to create his own raw and energetic Jazz Fusion music, full of distorted guitar, virtuosic bass lines, driving drums and enveloping piano. While honing his crafts at the prestigious Conservatorium van Amsterdam, PEEBZ wanted to distinguish himself from his peers by composing his own music. He's now ready to establish himself in the Dutch Jazz scene and is currently working on his debut singles and EP. Currently the bandleader Philippe Blouin is playing with Niels Luteijn (Drums) and Jelte Noordveld (Piano) Adam Kiepuszweski (Guitar)
Volta Live
Jongerencentrum Volta | DOCK Amsterdam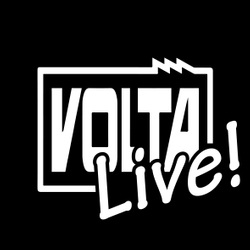 Algemene informatie
In haar 25 jarige bestaan hebben duizenden bands opgetreden in jongerencentrum Volta, gevestigd aan de Houtmankade. Er is veel muzikaal talent en er wordt veel fantastische muziek gespeeld en dat verdient een breed publiek. VOLTA zendt elke vrijdag tussen 21.30 en 22.00 uur een half uur uitzenden van concerten uit op SALTO1. Elke laatste vrijdag van de maand doen we een 'the best of' aflevering. Deze uitzendingen zijn ontstaan doordat tijdens de Corona crisis, toen optreden voor publiek aan beperkingen onderhevig was, jongerencentrum Volta bands de kans gaf op te treden zonder publiek. Dit is gefilmd door het Volta team. Het resultaat is te zien in het programma 'Volta Live'. Wil je ook optreden in Volta, heb je een lokale band en ben je jonger dan 30, meld je dan aan: E-mail: volta@dock.nl.