LAST CHRISTMAS by Cédric Dorval, Kim Eustachon, Baptiste Jouary & Sarah Landrevie, Canada
Future Vision Festival is a celebration of unusual animation, a feast for the eyes jam packed with films of every shape size and hue with cutting edge animation from Japan, The Netherlands and over fifty other countries worldwide. Future Vision Festival runs December 1st 2022 to 8th January 2023 hosted in free spaces at Sub Store in downtown Tokyo on December 17th 2022, with a sister screening FREE at Vrij Paleis op de Dam in Amsterdam on 7th January 2023 with Future Vision Exhibition and Party.
Future Vision Amsterdam
Chibby Channel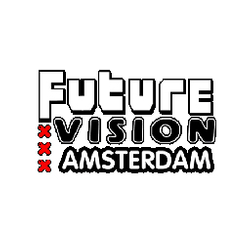 Algemene informatie
International Film & Cartoons... Straight to your Brain. Enter the subversive world of Future Vision Amsterdam. Fay Heady leads you through a mix of animation, surreal interludes and chats to artists and film-makers, all whilst she floats through the air on her magic carpet.