Het idee van God buiten je heeft de mensheid in 'n verwarring gebracht.
Het idee van God buiten je heeft de mensheid in 'n verwarring gebracht. Hij zit binnenin je. Beter als we zouden zeggen: Hij, Goddelijkheid is je binnenin, je interieur, je centrum van je zijn. Beweeg naar binnen. Eerst ontmoet je je gedachten ontmoeten. Raak er niet in verstrikt, gewoon negeren. Hoe meer aandacht je aan je gedachten besteed, hoe meer voeding je aan je gedachten geeft. Dan kom je in de wereld van gevoelens, emoties, stemmingen, die zijn subtieler dan gedachten. Zet dezelfde methode voort, negeer je sentimenten, emoties, stemmingen, alsof ze jou niet toebehoren. Als je de grens van je hart over gaat kom je bij de grens van je eigen zijn. Dat is de tempel van God, van Goddelijkheid. En het moment dat je de tempel binnen gaat zet hij zeker duizend stappen naar jou. Hij komt naar je als licht, als de essentie van schoonheid, als geluk, als stilte, als vrede. Hij komt met zoveel kracht, bijna als een vloedgolf, dat je erin verdrinkt. Je zult God(delijkheid) vinden, maar je moet jezelf verliezen. Dat is de prijs.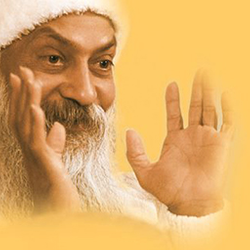 NL: Kijken naar OSHO TV kan je naar ontspanning brengen en daarmee in meditatie. Het is ook een prikkelend programma vanwege de manier waarop Osho (voorheen "Bhagwan Shree Rajneesh") onderwerpen als vrijheid, liefde, seksualiteit e.d. uitlegt. ENG: Watching OSHO TV can bring you to relaxation and with that in meditation. It is also a stimulating program because of the way in which Osho (formerly "Bhagwan Shree Rajneesh") explains subjects such as freedom, love and sexuality.
Contact:
Binnenkort te zien op ...
dinsdag 28 november
21:00 op SALTO2
zondag 3 december
22:00 op SALTO2
dinsdag 5 december
21:00 op SALTO2