From the false to the truth #27q1
De vrouw is niet de zwakkere sekse, zoals het eeuwenlang door mannen is gezegd. De vrouw is de sterkere sekse. Door de eeuwen heen is ze geconditioneerd en is haar wijs gemaakt dat ze een beschermer nodig heeft.
OSHO TV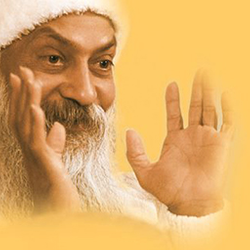 Algemene informatie
NL: Kijken naar OSHO TV kan je naar ontspanning brengen en daarmee in meditatie. Het is ook een prikkelend programma vanwege de manier waarop Osho (voorheen "Bhagwan Shree Rajneesh") onderwerpen als vrijheid, liefde, seksualiteit e.d. uitlegt. ENG: Watching OSHO TV can bring you to relaxation and with that in meditation. It is also a stimulating program because of the way in which Osho (formerly "Bhagwan Shree Rajneesh") explains subjects such as freedom, love and sexuality.