The Golden Future #26 deel 1 Osho on Rabindranath
Rabindranath is 'n groot dichter en groot mysticus en om dan in de twintigste eeuw te leven... Rabindranath kende niet alleen zijn eigen land, hij was ook 'n wereldrei­zi­ger. Hij had zijn opleiding in het Westen genoten en reisde voortdurend naar vele landen ter wereld. Hij ging nooit naar de tempel, hij bad nooit op de traditionele, rituele manier. Hij was weliswaar als hindoe geboren, maar men miskent hem door hem in een of ander hokje te stoppen, daar was hij te universeel voor. Hij kreeg vaak te horen: "Je woorden hebben zo'n geur van religie, ze schitteren zo van spirituali­teit, zo vanuit het mysterie, dat zelfs mensen die in niets anders geloven dan in materie, er door worden aangeraakt.
OSHO TV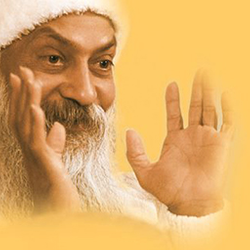 Algemene informatie
NL: Kijken naar OSHO TV kan je naar ontspanning brengen en daarmee in meditatie. Het is ook een prikkelend programma vanwege de manier waarop Osho (voorheen "Bhagwan Shree Rajneesh") onderwerpen als vrijheid, liefde, seksualiteit e.d. uitlegt. ENG: Watching OSHO TV can bring you to relaxation and with that in meditation. It is also a stimulating program because of the way in which Osho (formerly "Bhagwan Shree Rajneesh") explains subjects such as freedom, love and sexuality.