The Morning Train
van dinsdag 27 december
10:00 uur
Beluister aflevering
NB: Deze aflevering is vroegtijdig afgebroken en daarom niet in zijn geheel te beluisteren.
Embed
×
Radiostream embedden in uw webpagina
Door onderstaande code op de gewenste plek in de HTML code van uw webpagina te plaatsen kunt u de player van The Morning Train op uw webpagina weergeven.
The Morning Train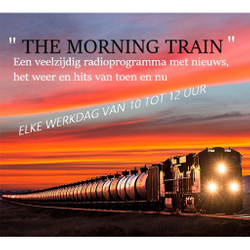 Algemene informatie
Een programma met muziek van toen en nu, informatie, weerbericht, tipparade en top 40 top 3 van nu en 30 jaar gelden en nieuwtjes.