The Screening Room On-Demand film program is curated by Outwave Cinema in collaboration with The Zapruder Art Movement
Flaming Creatures 1963, 45" by Jack Smith Fireworks 1945, 15" by Kenneth Anger Six Men Getting Sick (Six Times) 1967, 4" by David Lynch Flaming Creatures 1963 Banned soon after its first midnight screenings, the prints seized and the organizers arrested, Jack Smith's incendiary Flaming Creatures (1963) quickly became a cause célèbre of the New York underground. Championed and defended by Jonas Mekas and Susan Sontag, among others, the film wildly and gleefully transgresses nearly every norm of Hollywood morality and aesthetics. Fireworks 1945 Completed at the tender age of 17, Fireworks – an audacious pre-Stonewall exploration of homosexuality, violence, and American youth – was the breakthrough film for avant-garde film legend Kenneth Anger. Fireworks takes the form of the trance-film, in which its protagonist (played by Anger himself) partakes in a hypnotic journey through his own unconscious. Anger described the film with the following synopsis: "A dissatisfied dreamer awakes, goes out in the night seeking 'a light' and is drawn through the needle's eye. A dream of a dream, he returns to bed less empty than before." Six Men Getting Sick 1967 was Lynch's first exploration into film, made during his second year of study at the Pennsylvania Academy of Fine Art in Philadelphia. Lynch describes it as "Fifty-seven seconds of growth and fire, and three seconds of vomit." The transition into film came from a desire to make his paintings move. "I was painting very dark paintings. And I saw some little part of this figure moving, and I heard a wind. And I really wanted these things to move and have a sound with them. And so I started making an animated film as a moving painting. And that was it. I wasn't in the film business."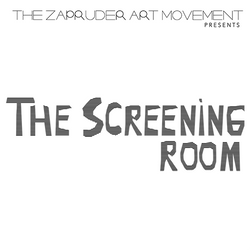 The Screening room visual kunst programma die zich richt op Video kunst en experimenteel film gemaakt door nationale en veel al internationale kunstenaars die hun werk vertonen in Musea, festivals en galeries over de hele wereld, de Screening room neemt in samenwerking met The Zapruder Art movement een selectie uit de collectie samen gesteld door Ronald Zapruder (Thezapruderartmovement@gmail.com)
Dit programma wordt gemaakt door Ronald Bijleveld.
Contact: